How can I buy Lumion licenses?
Buy from a local reseller
You can order Lumion at a local reseller.
How to buy additional seats
You can buy additional seats from your local reseller.
How to buy educational licenses
You can buy educational licenses by contacting your local reseller at: sales@lumion3d.net.cn
​

How is the software delivered?

As soon as the payment for your order is approved, you will receive an e-mail with a license key and installation instructions. The software is delivered electronically, there are no physical goods shipped and no shipping charges. Below is an example of a delivery e-mail of Lumion.

​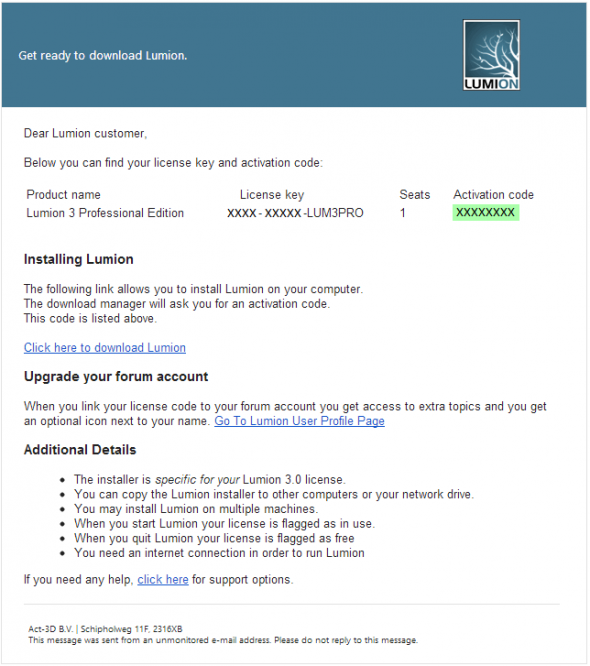 ​

Who will offer support on payment and delivery?

For reseller orders

Contact your reseller for support.
​

How many licenses do I need?

Lumion license are floating. You can run as much as Lumion instances simultaneously as the number of seats you have on the license.
​

May I install Lumion on multiple computers?

You can install Lumion on multiple computers. The number of Lumion instances you can run at the same time equals the number of seats you have on the license.
​

Do you offer networked (floating) licenses?

Yes, all Lumion licenses are floating and managed by our cloud-based license server. Note that Lumion needs internet access over HTTP to our license server. It connects upon start-up and exit to respectively allocate and release a license. This system offers a user-friendly and fully automatic floating license system to both large and small companies.
​

Do you offer node-locked (non-floating) licenses?

You can use Lumion on just one computer, but Lumion will still depend on our cloud server for activation and deactivation. We do not offer off-line solutions.

Do I get free updates?

We regularly release updates with fixes, changes and added functionality. Your Lumion license entitles you to get any free updates of your current

major version.

Upgrading to the next major version (Lumion 6) requires an upgrade fee.
​

What other technical support do I get?

All support options can be found on our support page. Once you received your Lumion license, you can register it on our website on your personal account. This offers you access to the licensed section of our support forum. Our support forum is maintained by a professional Lumion Support Staff who will provide answers to your questions quickly.
​

Is it possible to upgrade from Lumion to Lumion Pro?

Yes, you can upgrade whenever you want and pay the difference in license. You can order upgrades at your local reseller.